美人新誕生信義新嬌點
The Author of All Things Beautiful and Fashionable
美の推手
The Author of All Things Beautiful and Fashionable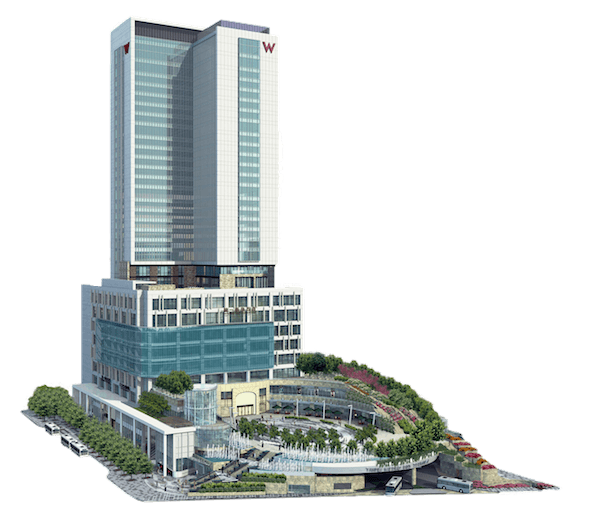 由統一集團百分之百轉投資的「統一阪急台北店」於2010年10月開幕誕生,並自2016年3月起更名為「統一時代台北店」,運用集團行銷資源整合及零售業經驗結合,全力拓展美麗事業,帶給消費者全方位美的體驗。
Uni-President Hankyu Taipei, a fashion-oriented business investment under the Uni-President Corporation umbrella, opened in October, 2010, renamed Uni-President Taipei since March, 2016. It is a successful cooperation of Uni-President's investment resources and the corporation's retail experiences devoted to beauty and fashion. Uni-President Taipei is committed to giving customers quality shopping and leisure.
美の所在
Where Beauty and Fashion Leads
座落於台北市信義商圈的黃金三角樞紐位置:忠孝東路及基隆路口的市府轉運站,有效結合捷運、巴士轉運站及國際級飯店,從地下2樓到7樓營業面積約8,000坪,其中地下2樓賣場與市府捷運站相通,1樓則緊鄰巴士轉運站,8樓到31樓是全球頂級設計飯店W Hotel。
Uni-President Taipei is conveniently located in the golden triangle of the deluxe Xinyi business district. The Taipei City Hall Bus Station, located at the intersection of Zhongxiao East Road and Jilong Road, is the service nexus of the Taipei Metro (the renowned Taipei Rapid Transit Systems), long-distance and commuters bus services and many internationally celebrated luxury resorts. Housing nine stories in total - from Basement 2 all the way to the 7th floor - the shopping center is approximately 1,230 square feet in size. The shopping plaza on Basement 2 is connected to the Taipei City Hall metro station.The first floor adjoins the bus services terminal. From the 8th floor all the way to the 31st floor is W Hotel, a global luxury hotel chain.
美の設計
Aesthetics
為了與比鄰而居的統一國際大樓簡約及低調奢華的風格相互輝映,大樓外觀使用了大量流線型的玻璃帷幕材質及白色的鋁板外牆,凸顯其現代風格的設計感。店舖設計優雅,搭配樓層主題概念,將各種生活場景透過環境設計,打造時尚購物空間。
The exterior of the building is covered in a sleek curtain wall and clean, white aluminum structure to complement the modern, minimalist decor of the Uni-President International Building next door and to accentuate the modish design of the skyscraper. All the shops and boutiques boast graceful, simple lines in keeping with the design theme of the floor. Every lifestyle scenario is carefully reenacted in each shop display to ensure design cohesiveness and a deluxe shopping experience.
美の夥伴
Bussiness commnnity
市府轉運站
Taipei City Hall Bus station
結合公車、捷運與國道客運之交通轉運樞紐。目前共有16條客運路線提供服務,串連台北市與中部以北及東部各主要城市的交通運輸系統,可直接通往桃園國際機場,提供旅客一個舒適、寬敞的候車空間。
The shopping center is housed in a transportation hub facility that combines bus services, the Taipei Metro, and longdistance passenger bus transport. At present, 16 bus routes are in operation to serve commuters to conveniently combine a majority of transport systems in Taipei City, northern, eastern Taiwan, and Taoyuan International Airport.
台北W飯店
W Hotel Taipei
統一集團精心經營的台北W飯店,結合了令人驚豔的自然元素與感官饗宴,反映城市既酷炫又感性的多變面貌,讓顧客體驗全新的台北新生活。
A spacious, comfortable waiting area is also available to commuters.W Hotel Taipei under Uni-President Corporation assembles natural elements with Taipei's vogue cityscape to reflect the city's effervescent yet thoughtful outlook. It brings a new take on city living to customers.
美の舞台
Center Stage
購物X流行娛樂 = 夢想新舞台 2F Dream Plaza夢廣場 Uni-President Taipei: Where Fashion Meets Fun! 2F Dream Plaza
佔地千坪的戶外空間,綠蔭環繞,視野遼闊,Taipei 101近在咫尺,各種時尚走秀、演唱會、聖誕節點燈、跨年倒數等活動,輪番上陣,目不暇給,打造出信義商圈最具代表性的流行娛樂發源地及新地標,成為一個夢想的新舞台。
This spacious outdoor space is skirted by lush trees on all sides.The view here is excellent: the Taipei 101 Skyscraper, the landmark that defines much of Taipei's cityscape,stands not afar in all her glory.This plaza is where scenesters gather for all sorts of hip events. Fashion shows, concerts, Christmas tree lighting,and year-end countdown parties are staged here throughout the seasons.It is now the new mecca of entertainment in Xinyi District, and where one dares to dream big.
合作/場租 洽詢 02-27299699*2745
美の定位
Positioning
以打造時尚OL的美人百貨為定位,考慮到信義商圈有許多粉領族的特性,把經營對象聚焦在25歲~35歲OL,這些OL對時尚具高度興趣,喜歡作符合年紀的打扮,積極也有經濟能力投資於時尚。
Uni-President Taipei is a shopping center that caters to sophisticated, modern office ladies. The posh Xinyi District is where this particular demographic group congregates. With that in mind, Uni-President Taipei focuses specifically on trend-sensitive,modern women between age 25 to 35. This demographic community is hip,interested in stylish apparels and accessories, and financially independent enough to make fashion investments.
美の體驗
The Experience
Uni-President Taipei launched the "Three-Step Recipe for Beauty,"a regimen originated in Japan, for its trend-sensitive customers.This recipe includes custom coloring identification,individual style analysis, and custom fashion fitting for each customer.With the help of a fashion specialist team ,Uni-President Taipei wants every shopper to discover a "me-only" style for every woman.